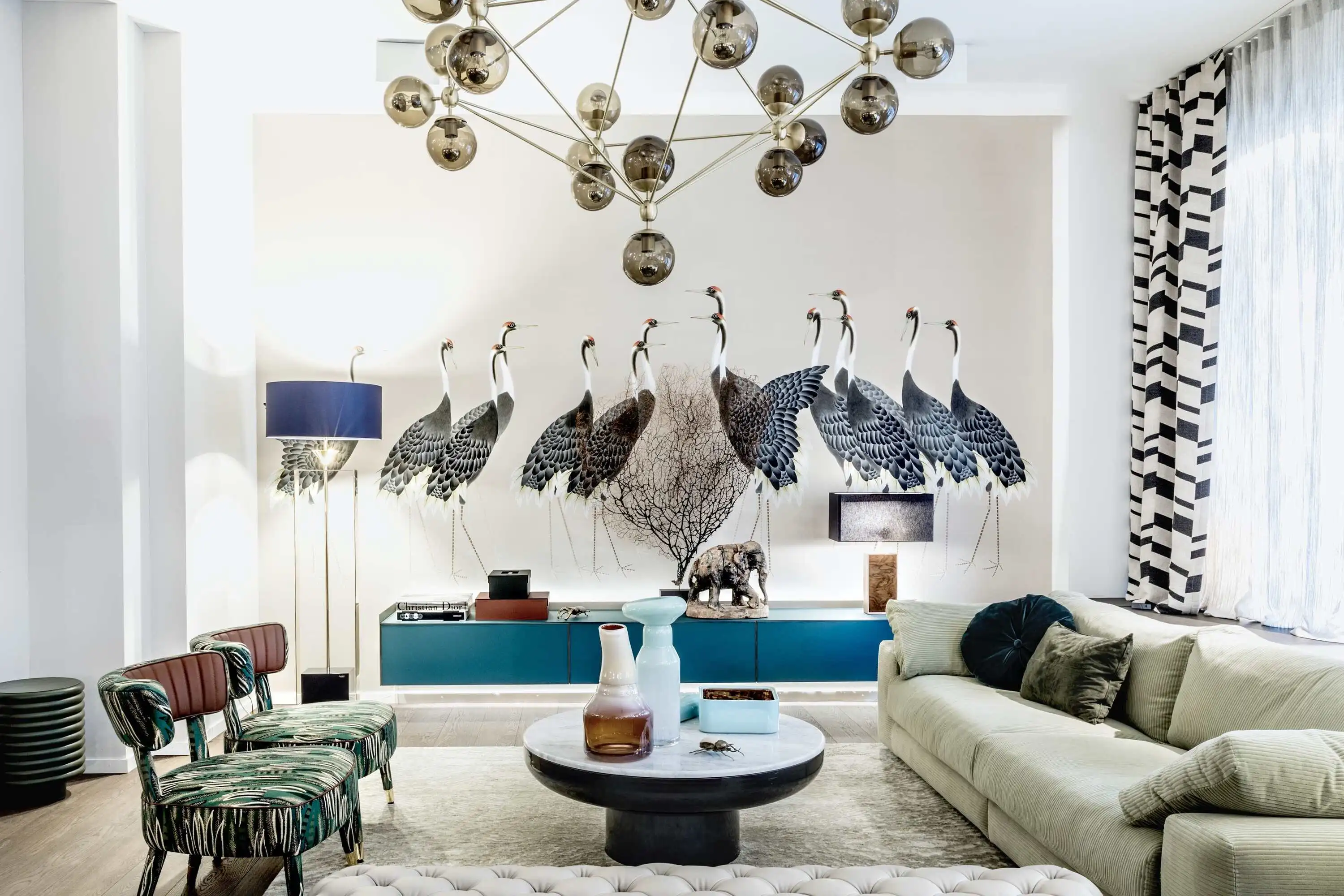 Showroom
We've made our home on the edge of Zurich's old town. Literally. Our showroom on Zeltweg is decorated in a way that makes you want to move right in. It's stylish and cosy, always on-trend, yet also timeless. In short: typically RoomDresser.
All the elements that make up the world of our exclusive interiors are displayed here, so you might just find something for your space as well. Besides carefully selected designer furniture and pieces from up-and-coming labels that are sure to become classics, you can also browse our stunning array of accessories.
In addition to fine porcelain, elegant office accoutrements, and pleasing home fragrances, we showcase artworks, curios, and antiques in our boutique.

True to the name RoomDresser, textiles and fabrics play a central role here. After all, wallpaper, curtains, and upholstery fabrics are miracle workers when it comes to transforming an interior, and comfy plaids, beautiful cushions, and table and bed linen are what make a home inviting in the first place.
Precious objects
Always on the lookout for special interior design gems, we present here a selection of gems and designer pieces such as the collections of porcelain master Stefanie Hering for her eponymous label. With her iconic shapes, she has revolutionized the appearance of manufactured porcelain. She spurs her artisans on to top performance with her special designs. Hering Berlin manufactures in Germany at the highest level. "Very few people buy purely festive tableware," the designer knows. Rather, many also want to enjoy a moment of beauty in everyday life and the conscious, sustainable luxury that handmade porcelain embodies. RoomDresser founder Doris Ambühl agrees: "With their tableware, a little art can be brought to the table every day."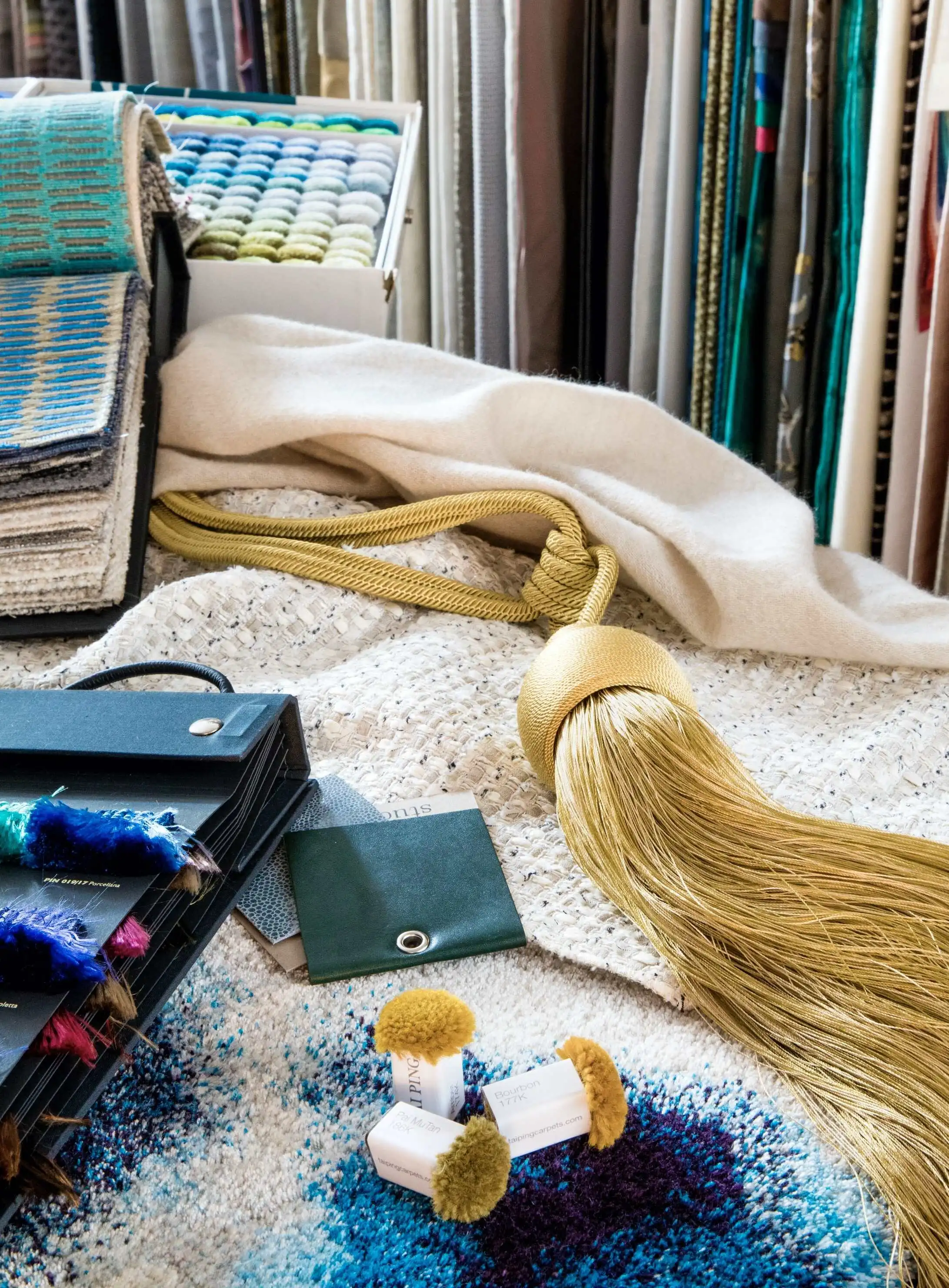 Textiles
A new set of sofa cushions can completely change the mood of a room. We carry an extraordinary selection of plaids and cushions as well as table and bed linen that will liven up your own space. We will give your home a refresh with colour-coordinated curtains, carpets, and new upholstery. Our extensive array of fabric swatches and leather and carpet samples stands at your disposal.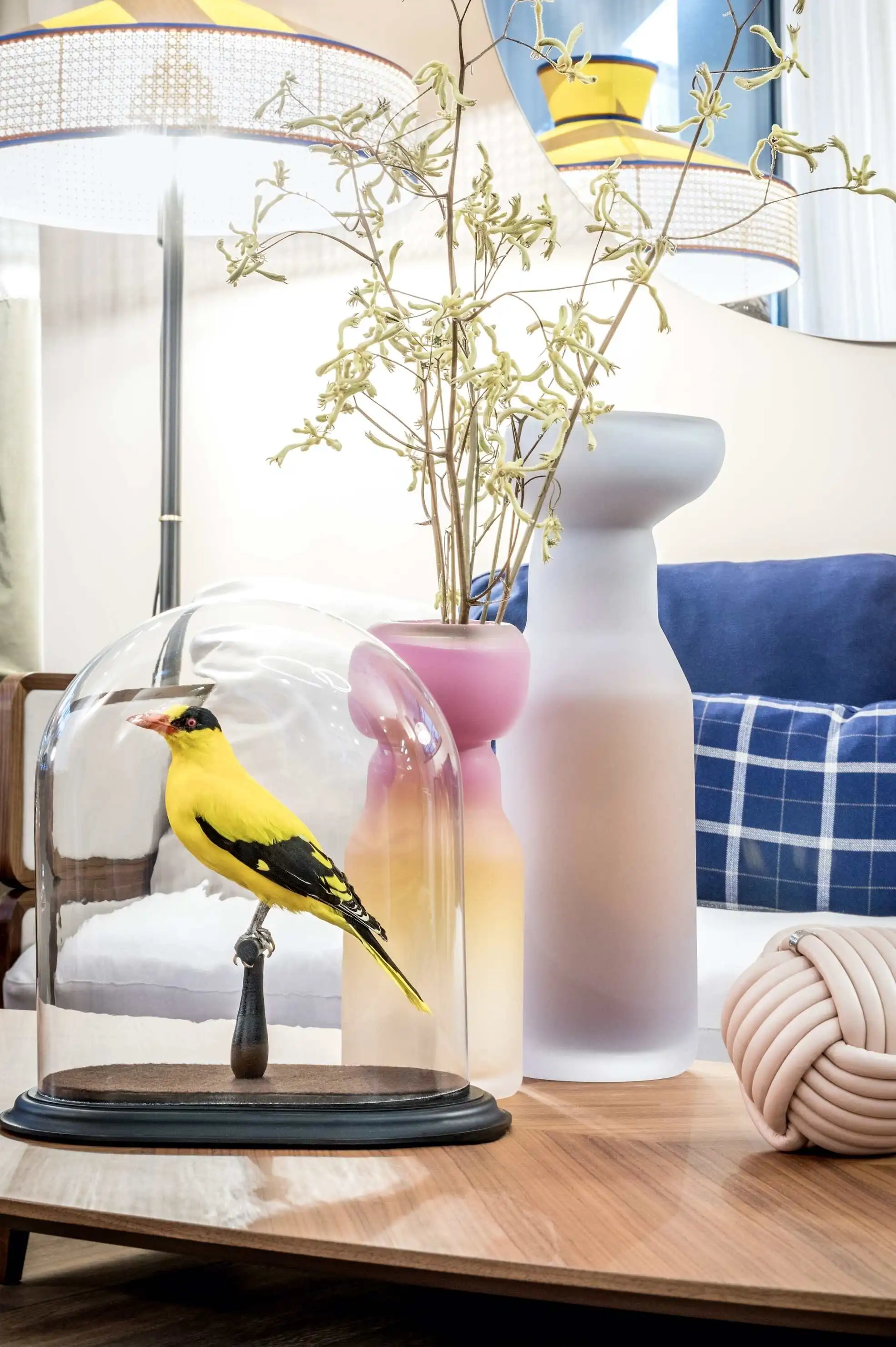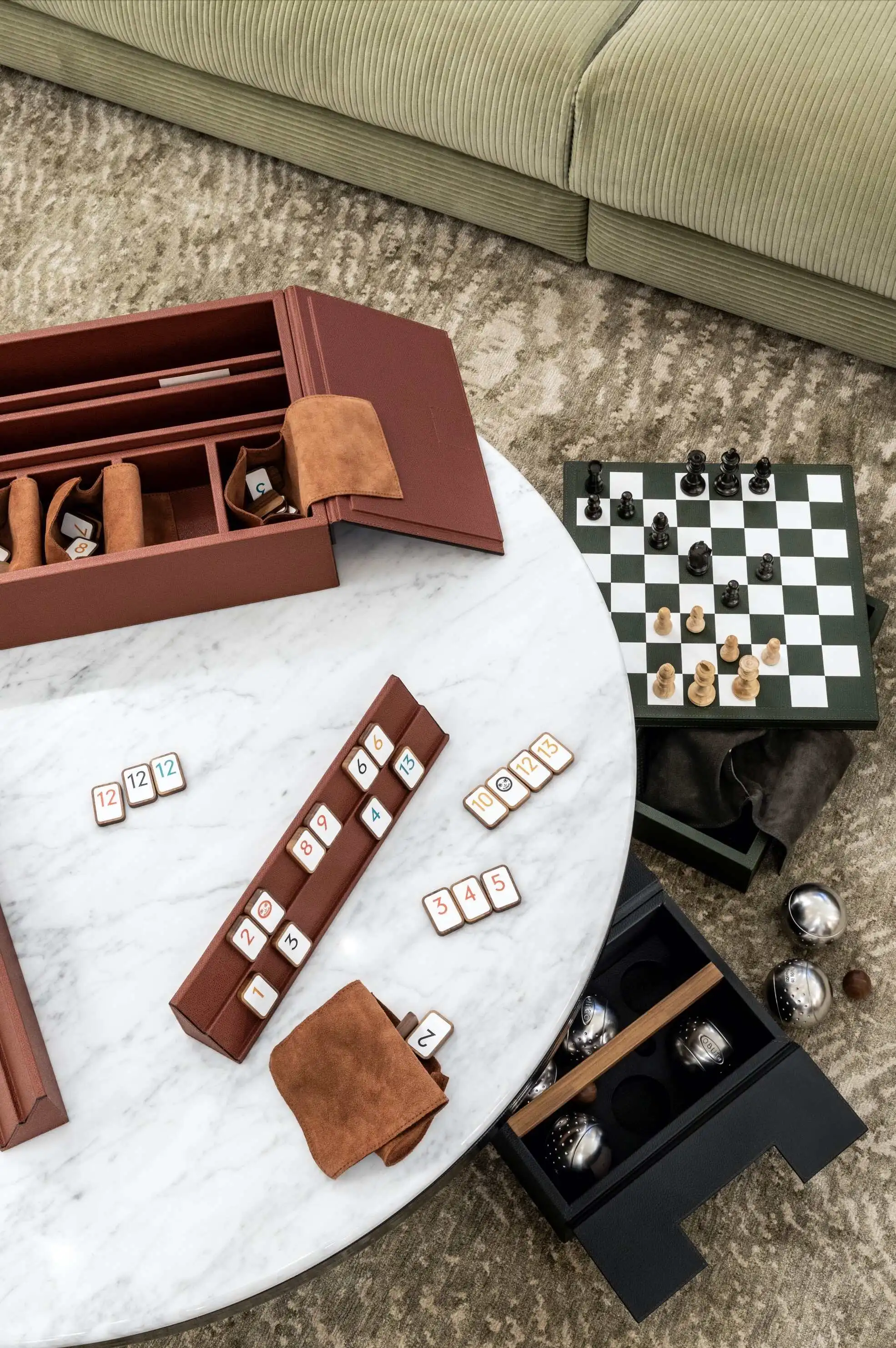 Accessories
Whether you display them on the coffee table, a windowsill, or a shelf, well-chosen decorations will add some personality to your home. On our forays through far-flung countries and interior design fairs, we're always on the lookout for new treasures. Take in our collection of curios like taxidermy animals, sea ferns, and semiprecious stones, and have a look at our precious porcelain figurines, art objects, and paintings. You can also pick up beautiful vases, bowls, and table china for your dinner table. Our offerings run the gamut from elegant accessories for the home office and classic watch winders to elaborately crafted board games, stylish leather goods, and gorgeous home scents.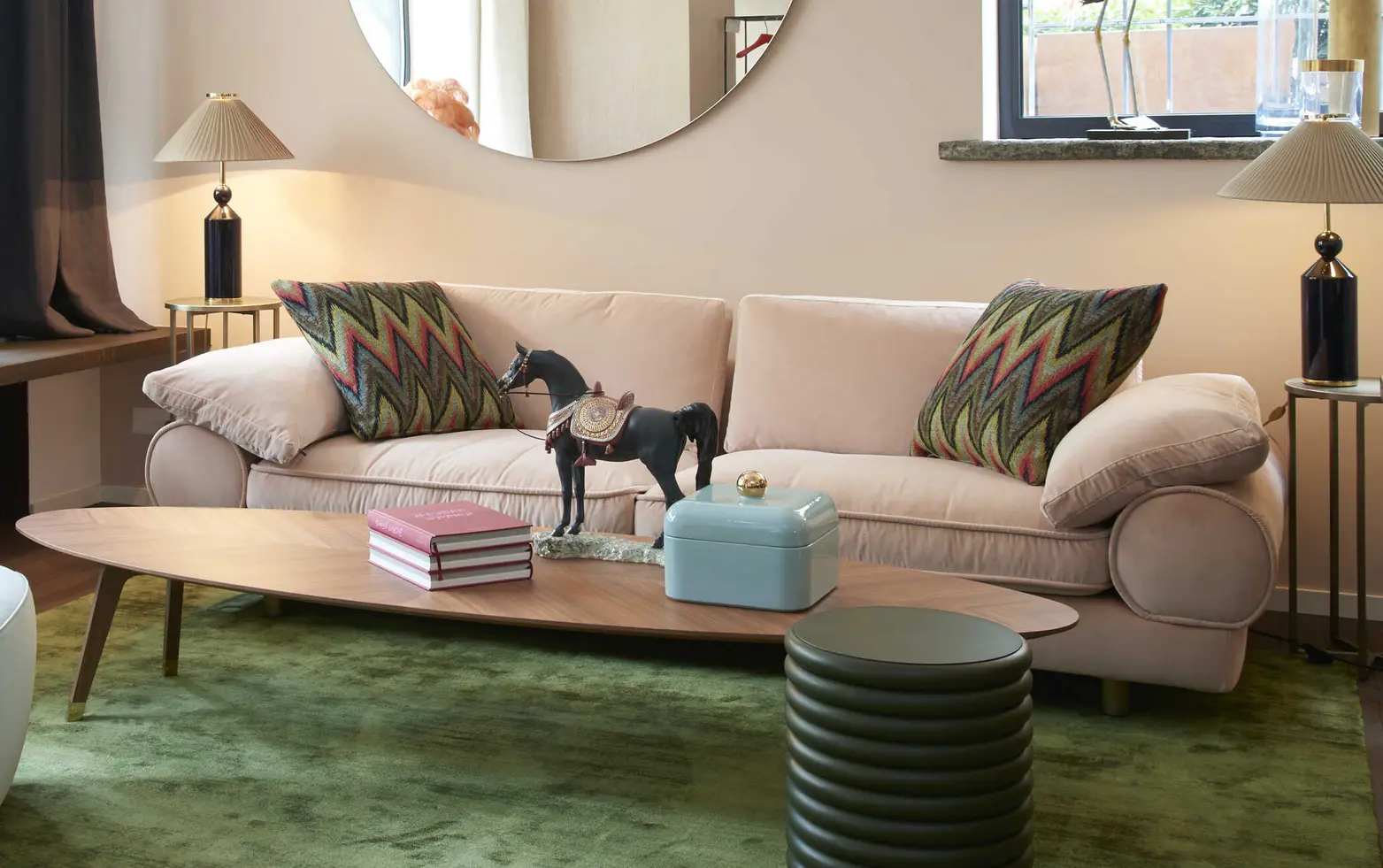 Manufacturers
A
ACCADEMIA
ACERBIS
AGAPE
AKARI
ALAPE
ALBED
ALEXANDER LAMONT
Alinea Design Objects
ALLIEDMAKER
ALTAMAREA
Andreu World
ANN IDSTEIN
ANTA
ANTONANGELI
ANTONIOLUPI
APRIL FURNITURE
APPARATUS
ARCADE
ARCAHORN
ARCO
ARFLEX
ARMANI CASA
ARPER
ART&DECOR
ARTE WALLPAPER
ARTEK
ARKETIPO
ARTEMIDE
ARTELUCE
ARTIFORT
ASPLUND
ASSOULINE
ASTEP
Atelier Alain Elouz
ATELIER VIERKANT
ATELIER ALINEA
AUTOBAN
AXEL HEIZMANN
B
B.D BARCELONA
B&B ITALIA
BAGA
BAKER
BALERI ITALIA
BALADA&CO
BARBARA OSORIO
BAROVIER&TOSO
BAXTER
BEARDMORE
BEGA
BELCOLOR
BELUX
BERT FRANK
BERND BEISSE
BIELEFELDER WERKSTÄTTEN
BILLERBECK
BISSON BRUNEEL
BLACK EDITION
BLACK TIE
BOCCI
BOCA DO LOBO
Bodema
BOFFI
BOMMA
BONACINA
BONALDO
BOSA
BOVER
BRALCO
BRAND VAN EGMOND
BRUNO TRIPLET
C
CAPO D'OPERA
CALICO WALLPAPER
CANTORI
CARL HANSEN
CARLUCCI
CARPYEN
CASAMILANO
CASSINA
CASALIS
CASA CASATI
CASTRO
CATTELAN
CC TAPIS
CECCHOTTI
CEHA5
CHARLES PARIS
CHIVASSO
CHRISTIAN FISCHBACHER
CHRISTINE KRÖNCKE
CHRISTIANE PERROCHON
CHRISTOPHER BOOTS
CINI&NILS
CLASSICON
CRÉATION BAUMANN
CTO
COLLINET
COLEFAX&FOWLER
COLOR INDIGO
CMO PARIS
CONDE HOUSE
CONMOTO
CONTARDI
CORO
COROON
CRAMAN LAGARDE
CRÉATION MÉTAPHORES
CREAZIONI
D
D LINE
DADA KITCHEN
DANSKINA
DAVIDE GROPPI
DCW EDITIONS
DE CASTELLI
DE LE CUONA
DE MAYO
DE PADOVA
DECLERQUE,
DECOR WALTHER
DECORTEX
DEDAR
DELA ESPADA
DELIGHTFULL
DELTA LIGHT
DIX HEURES DIX
DOMINIQUE KIEFFER
DOMANI
DONGHIA
DORNBRACHT
DR. VRANJES
DRIADE
DRAENERT
DUVIVIER
DVALNER.
E
EDITIONS MILANO
ELITE BEDS
ELITIS
ELTORRENT
EPONIMO
EQUIPO DRT
ERIC KUSTER
ESTRO
ESTILUZ
ETRO
EUNILLEE
EXPORMIM
EMME BI
EMBRU
ELOA
EQUIPO DRT
EXTETA
FABBIAN
FANTONI
FARROW&BALL
FENDI CASA
FEDERICIA
Ferreira de sa Rugs
FERROLUCE
FIAM
FISCHER MÖBEL
FISCHBACHER
FITZ LEUCHTEN
FLEXFORM MOOD
FLORIAN SCHULZ
FLOS
FONTANA ARTE
FRAG
FREIFRAU
Frigerio
FROST
FÜRSTENBERG
G
Gabriel Scott
Galimberti Nino
GALLOTTI&RADICE
GALLERY
GAN
GANDIABLASCO
GASTON Y DANIELA
GEBRÜDER THONET VIENNA
GERVASONI
GHIDINI1961
Giardini Wallcoverings
GIORGETTI
GIOBAGNARA
GIOPAGANI
GINGER BROWN
GP&J BAKER
Grok
GUAXS
GUBI
H
HANNA KORVELA
HARBOUR
HAY SIGN
HEATHFIELD&CO
HENGE07
HERING BERLIN
HIND RABII
HOLLAND&SHERRY
HOULÉS
HOLLY HUNT
HORGEN GLARUS
I
IGN
IP DESIGN
IP44
IVANO REDAELLI
IL FANALE
INTERNA
INBAGNI
J
JAB
JACARANDA
JAKOB SCHLÄPFER
JAN KATH
JANUA
JAMES HARE
JARDIN DU ROI SOLEIL
JIM TOMPSON
JONATHAN ADLER
JOV
JORGENSEN
K
KABE FARBEN
KAIA LIGHTING
KALMAR
KENDO
KETTAL
KEVIN REILLY COLLECTION
KOHRO
KINNASAND
KOKET
KRAMIS
KRAVET
KREON
KT COLOR
KVADRAT
L
LAMBERT&FILS
LANGE PRODUCTION
LARSEN
LASVIT
LAURAMERONI
LE LIEVRE
LEE JOFA
LEHNI
LESS'N'MORE
LETTI&CO.
LFT
LIVING DIVANI
LEUCOS
LIGNE PURE
LIAIGRE
LINDSEY ADELMAN
LIZZO
LINEN COMPANY
LITTLE GREEN
LLADRO
L'OBJET
Lodes
Longhi
Loro Piana
LOUIS POULSEN
LUCEPLAN
LUIZ
LUMENCENTER
LUMINA
LUMINARA
M
MAIGRAU
MANUEL LARRAGA
MAGNUS OLESEN
MAOLI
MARK ALEXANDER
MARSET
MARTINELLI LUCE
MARIE'S CORNER
MARCHETTI
MARK ALEXANDER
MASIERO
MATTHEW WILLIAMS
MATTI BY BOLS
MAXALTO
MERIDIANI
METALARTE
METALL PFISTER
MHZ
MICHAEL VERHEYDEN
MICHEL POSAMENTEN MANUFAKTUR
Milano Bedding
Miniforms
MINOTTI
MISCHIOFF
MISHA WALLPAPERS
MISSONI
MIPA
MIDJ
MODULAR LIGHTING
MODERN GRAND TOUR
MOISSONNIER
MOLTENI&C.
Molteni Home
MOOOI
MÖLLER DESIGN
MORANO DUE
MOS DESIGN
Mulbery
MYABI CASA
MYYOUR
N
NAHOOR
NANZ
NANI MARQUINA
NASH ANDREA
NAUTIC
NEMO
NEUCO
NEGRA CARPETS
NEUE WIENER WERKSTÄTTEN
NILSON BEDS
NINA CAMPBELL
NILUFAR
NOBILIS
NORR11
Northern
NOSTA
NOUWENS BOGAERS
NYA NORDISKA
O
OASIS
OASIQ
OBJECT CARPET
OBJET DE CURIOSITÉ
OBJET INSOLITE
OCCHIO
OCHRE
OCQ
OFFECCT
OLUCE
OPINION CIATTI
OSBORNE&LITTLE
ORAC
OR ILLUMINAZIONE
OTY
OZONE
P
PALLUCCO
PAOLA LENTI
PAOLA C
PATRIZIA GARGANTI
PARACHILNA
PEDRALI
PENTA
PERENNIALS
PHILIP WATTS
PHILIPPE HUREL
PHILLIP JEFFRIES
PHOS
PIERRE FREY
PIGMENT
PINCH
PIURE
POLTRONA FRAU
POL INTERNATIONAL
PORRO
PORTA ROMANA
POTOCCO
POUENAT
PRECIOSA
PROMEMORIA
Pulpo
PUNT
Q
R
RABITTI
REFLECTIONS
REFLEX
RÖTHLISBERGER KOLLEKTION
RIBAG
RIMADESIO
RINA MENARDI
RODA
ROLL&HILL
ROMO GROUP
ROSENTHAL
ROYALBOTANIA
ROVIVA
RÖSHULTS
RUBELLI
RUBELLI CASA
RUCKSTUHL
S
SAHCO
SANTA&COLE
SALVATORI
SANCAL
SANTABARBARA UMBRELLA
SAWAYA&MORONI
SCARLET SPLENDOUR
SCHÖNBUCH
SCHRAMM
SÉ COLLECTION
SERALUNGA
SERIEN
SERIP
SIMON MARQ
SOLPURI
STARPOOL
STEINER
STILNOVO
STRASSERTHUN
STUDIO ART
STUDIODIMORE
STUDIO ITALIA
SUTHERLAND
SUNDAY IN BED
SUITE
T
TACCHINI
TALENTI
TAI PING CARPETS
TECHNO GYM
TECNOLUMEN
TECTONA
TEKNA
TERZANI
THE SIGN
THOMAS ALBRECHT
THIERRY GERBER
TOBIAS GRAU
TOM DIXON
TOULEMONDE BOCHART
TOOY
TORREMATO
TOSCANINI
TRECA
TRICONFORT
TUBES
TUUCI
U
UDO SCHÜRMANN
UNÜTZER
UNOPIU
USW
V
VALDAMA
VAN ROSSUM
VARASCHIN
VEREL DE BELVAL
VERONESE
VERPAN
VERZELLONI
VIABIZZUNO
VIBIA
VISIONNAIRE
VISTOSI
VITEO
VOLA
VS MANUFAKTUR
W
WALTER KNOLL
WALL&DECO
WARM NORDIC
WEISHÄUPL
WEITZNER LORI
WENDELBO
WIND
WINDFALL
WINDISCH
WITTMANN
WOGG
WOODNOTES
X
Y
Z
ZAFFERANO
ZANOTTA
ZEITRAUM
ZIEHER
ZIMMER&ROHDE
ZINC TEXTILES
ZONCA
ZOOM BY MOBIMEX
#